Kennedy Space Center, Florida — back CEarlier this week, NASA engineers completed a fuel test for its giant lunar rocket and must now contend with Tropical Depression Nine, which appears to be targeting Florida.
NASA administrators plan to provide an update on possible launch attempts and the next steps for the SLS and Orion that make up the Artemis-1 mission. The lunar rocket sits vertically at Kennedy Space Center's Pad 39B on Florida's east coast, awaiting its third launch attempt.
Following two previous scrubs due to unruly hydrogen leaks and engine cooling issues, NASA provided the SLS with more than 700,000 gallons of cryogenic propellant in Monday's test to see if engineers had addressed those issues.
Overall, NASA management called the test a success.
Artemis-1 launch director Charlie Blackwell Thompson said the fuel tank test "went very well" and NASA's deputy administrator for exploration systems development Jim Free said on Twitter that the team achieved "all four test goals," And a new propellant loading procedure was used.
NASA hopes to launch at 11:37am ET on September 27th. However, this does not depend on the space agency. Due to safety requirements, NASA first needs approval from the Space Force, which oversees the Eastern Range, before extending the certification of the flight termination system. All rockets require FTS, which can cause the vehicle to self-destruct if it veers off course and threatens the public.
The Space Force is reviewing a Sept. 27 launch date and an Oct. 2 backup window. If the agency is set to launch on Tuesday, NASA needs answers soon.
Over the past week, the tropics have been energized after a slow start to the Atlantic hurricane season.
Launch weather officers with the Space Force's 45th Weather Squadron will keep a close eye on Tropical Depression Nine, which is currently roaming the central Caribbean Sea about 600 miles east-southeast of Kingston, Jamaica.
What is the "cone of uncertainty" in hurricane forecasting?
On Friday, the 45th Weather Squadron issued its first launch forecast for September 27. Forecasters predict only a 20 percent chance of favorable weather during the 70-minute launch window.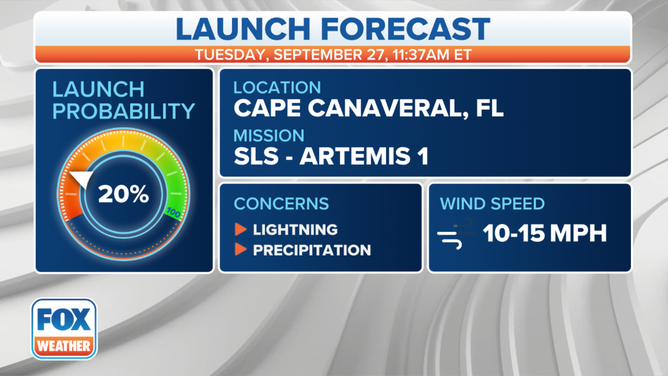 The front heading into the Space Coast this weekend is forecast to bring rain and northeasterly winds, and then Tropical Depression Nine, which could soon become a tropical storm, will gradually push more shower activity toward the Space Coast.
"Weather began to deteriorate further Monday through Tuesday as a hurricane (TD 9) is likely to move to the northwest Caribbean," the launch officials wrote. "The official forecast from the National Hurricane Center tracks a potential early Tuesday over western Cuba. Hurricane overhead, the storm moved into the eastern bay near the Florida Keys by midday Tuesday. Deep tropical moisture will overflow the spaceport Tuesday with extensive cloud cover and possible sporadic showers during the launch window."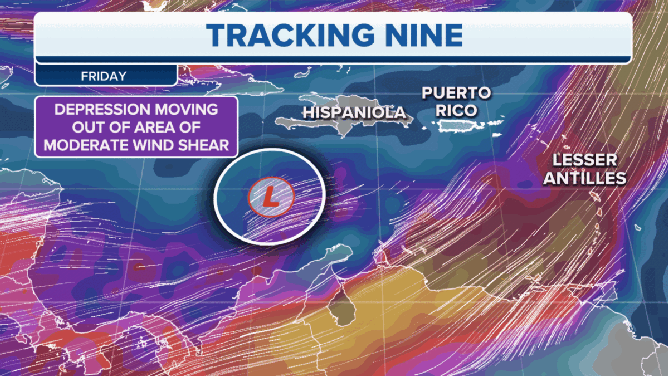 This particular system will be a factor in any upcoming Artemis launch attempt, as Tropical Depression Nine is expected to become a tropical storm late Friday, strengthen into a hurricane, and could make landfall in Florida early next week. peninsula.
The latest cone of uncertainty includes the Florida Keys, South Florida and Central Florida, including NASA's Kennedy Space Center.
If the tropical system does bring strong winds to Florida's Space Coast, NASA needs to push the 322-foot-tall rocket back into the Vehicle Assembly Building. It was impossible to move to the hangar at 2 mph with winds over 46 mph.
Check back for updates after the NASA briefing at 12:30 p.m. ET and keep an eye on FOX weather for the last time on Tropical Depression Nine.